Yesterday, Google updated their ever popular Google Maps Mobile for BlackBerrys, by rolling out v2.0.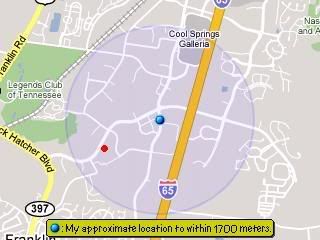 While there are just a few differences, the main one with this go-around is the addition of triangulation for non-gps devices.
FAST FACT: Triangulation is a process by which the location of a radio transmitter can be determined by measuring either the radial distance, or the direction, of the received signal from two or three different points. Triangulation is sometimes used in cellular communications to pinpoint the geographic position of a user.
While using this method isn't the best option for finding your current location, it does work for the most part.
As you can see in our test however, the location that is reported and your actual location can vary by sometimes over a half a mile.
So bottom line: It's a nice attempt and it will be useful for times when you are in a new area and want to search for restaurants and businesses, however, don't expect it to work well-enough for you to give detailed instructions to 911 where you are located.
*In the above graphics,
blue
represents reported location from triangulation,
red
represents correct location.